Matt & Craig's Chunk Toast
11 Lines That Were Cut From the Script of
"Welcome Back Kotter"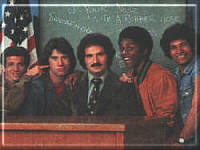 1. Up your nose with my stinkin' toes.
2. Up your ass with a shard of glass.
3. Up your butt with a bit of alright, what?
4. Up your snoot with my size 10 boot.
4. Up your anus with something heinous.
5. Up your rear with the horn of a steer.
6. Up your shnoz with The Wizard of Oz.
7. Up your behind hole with a 10 foot pole.
8. Up your beak with the pen of a geek.
9. Up your proboscis with the thumb of Colossus.
10. Up your keister with an egg left over from Easter.
11. Up your rump with a bicycle pump.
---
Recent News:
"Ally McBeal" and "Shasta McNasty" will be coming together to form a new show. No word yet on what the title of this new series will be but rumor has it that it will be called "Ally McNasty". All of the characters will be the same but you won't have to watch two shows to see them.
---
This site is brought to you by:
Defends Undergarments
"Get all you want out of life with Defend, because you've got alot of whizzing to do!"
---
Previous Chunk Toasts:
The Ancient Art of..... (Oct 29, 1999)
The Lost Episodes of..... (Sept 23, 1999)
---
[ Sign The GuestBook ] - [ Read The GuestBook ]
[ GuestBook by TheGuestBook.com ]
Click here to E-mail us your comments and suggestions.
Other sites of interest: